Tired of playing below what you are capable of and falling short of your potential?
Finally A Step-By-Step Program Showing You Exactly How To
Improve Your Hockey

 

Fitness

, Add

An Extra Burst of Speed

 &

Build Rock Solid

 

Confidence

 So That You Consistently Gets Selected Into Higher Hockey Teams
Take Your Hockey To The Next Level In Just 1 Hour Per Week
Give yourself the best chance of reaching your goals without hiring your own strength & conditioning coach, nutritionist, sports psychologist and private hockey coach.
There Is So Much More To Hockey That You Are Probably Not Even Aware Of...
Everything you are about to read on this page has the power to take your from the point you are now in your hockey game to where you want to be, it's left to you to show how serious you are about finally taking your game to the next level. Before I get to the main reason you are on this page, I would love you ask you some questions:
Are you frustrated with things that are affecting your game, maybe the way that you are playing, perhaps you're lacking consistency or not getting past players like you wish to or you're doubting your ability? Maybe you feel as though you are being overlooked by team mates, coaches and selectors and it gets you down.
Have you ever felt like it's a struggle to take your game the next level even though you have tried everything you could lay your hand on that seem to produce little to no result?
Do you wish to take your all round game to the next level, become the player that you know you can be, that player everyone wants on their team?
If the answer to the questions above is yes, then you need to sit tight and read every word you see on this page and most importantly take action.
Because what I am about to share with you will unlock your full potential and even the ones you never thought you had in 12 weeks flat or less.
You have my word!
Who Am I And Why Should You Listen To Me
My name is Lauren Penny. I am an ex-International Hockey Player and Performance Coach. I'm one of very few people that have reached the top level in hockey as well as being a performance coach and mentor.
I have also helped many hockey players of all levels by helping them with the mental and physical demands of sport. Too often these get overlooked but are often the reasons why players don't get selected.
I have even been featured in these newspapers and magazines:
Even though I don't like to really blow my own horn because I let my results speak for me, I just thought I needed to introduce myself properly to you.
See what some other hockey players who I have worked with have to say about me and how I have helped them...
As a qualified Fitness Expert & Performance Coach (with over 10 years experience) and also a Sports Mental Game Trainer including NLP, Psychology & Life Coaching, I specialise in helping hockey players with the mental and physical parts of the game.
Just a few things that I help players with are: how to be more confident, handle pressure & frustration, overcome setbacks, stay focussed, be more consistent and how to be physically stronger, faster, more explosive and agile specifically for hockey.
My passion is helping hockey players achieve what they never really think is possible due to limiting beliefs and getting them ready and prepared for success. This preparation is VITAL!
It is the combination of my knowledge and experience that makes people want to work with me.
But, that's enough about me and my clients' success... I want to show you how I can help you too!
How Do I Intend To Help You Take Your Game To The Next Level
For the past 10 years I have been working with both young players (aged 11-21 years) as well as more experienced hockey players (up to 55 years masters players) to help them get to the top of their game. I have never put all I know together in an easily accessible format that can help more people even when I have a busy schedule.
A while back while I was helping some hockey players with their game and I had another set of players waiting for me, they brought up the idea of me creating a training course that can help them even when I am not around to work with them.
At first I really didn't give too much thought to what was suggested until recently when I realized how many hockey players I have been able to help turn their game around with my training program and how many more that I will love to help.
So I decided to create A Leave Nothing Out, full training course where I will reveal everything that has made me a highly sort after player and trainer.
For the next few months, I got to work and started putting together everything I knew that I have used which has worked tremendously not only for myself but also for people I have worked.
I even went the length of getting other professionals advice and additional training to help put together the best program for hockey players, to not to leave any stone unturned.
After months of working night and day, I finally came up with a complete training program that takes you from where you are to the point you want your game to be in 12 weeks flat.
Why Am I Sure This Will Only Take Less Than 12 Weeks To Turn You Into The Player You Dream Of Becoming?
I'm very sure it will take you less than 12 weeks to become the player you dream to become in less than 12 weeks because this is not some experimental training program, far from that
This training program I have put together for you has been tested and comes directly from my experience of playing and working with hockey players and helping them take their game to the next level
Below is some feedback from just a couple of players who have already used the training to take their game to the next level
With that said. I'm sure you can't wait to lay your hand on this training which is the difference between mediocre and the most valuable player stuff.
Imagine just 12 weeks from now, you are finally the player nobody believed you could be, you have finally taken your game to the next level to the envy of those people who never gave you a chance before all because you got what I created just for you
Introducing the Hockey Performance Academy...
Below Is What You Will Get Inside The Hockey Performance Academy
Hockey Performance Academy was put together with you in mind so has to be the very solution you have been searching for to take your game to the next level.
Hockey Performance Academy consists of 12 weeks of in-depth training that will take you from where you are now to the point you want to be in with your hockey.
The point where by you become the go to player in your team and the caliber of player every coach dream to have on their team
Are you wondering why I am so sure of this?
That's because this same training I have put together inside Hockey Performance Academy is what I have continually used to help hockey players around the world that got me recognized by Top Magazines and Newspapers just like you saw above.
This program is divided into 3 major sections:
Section 1 - Mental Toughness
The biggest difference between the good players and the great players is what happens in the brain. This part of the course will help you re-train your brain and teach you how to be more confident and positive, how to cope with anxiety, pressure and frustration and will help you to stop worrying about mistakes and the fear of failure. You will learn many tools and strategies which will help get you playing your ideal game consistently which will get you selected into teams.
Here is the breakdown of the Mental Toughness Modules: 
Module 1: What Makes A Great Hockey Player?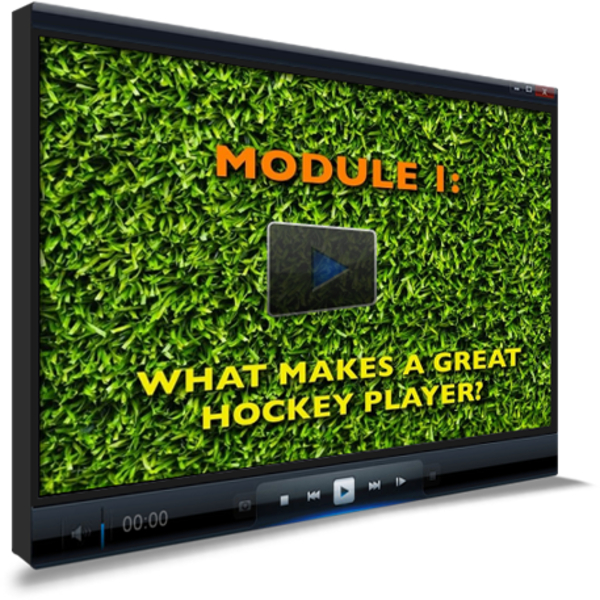 Why do some people make it and others don't despite very little difference in ability? This module discusses the differences between talent versus hard work, grit and determination. We also delve into getting out of your comfort zone, sacrifice and being accountable. This is the foundation of the course that teaches you that you can achieve anything you set your mind to as long as you are committed. It is time to be clear about what you want to achieve so that you know where you are and where you need to get to. This is a great starter module which will guide you to set clear and achievable objectives.
Module 2: Get Mentally Tougher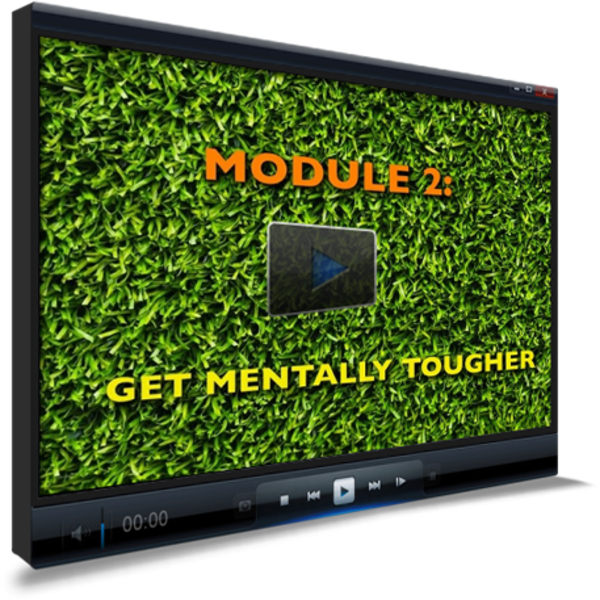 There is a reason why many believe that the mental part of the game is the most important part of sport, that's because it is. There are many great sports people who maybe haven't made it because of their lack of mental ability so we want to teach you how to get mentally tougher so that you can take a step to the next level. In this module we explain how the brain works so that you can use it to your advantage. We also talk about how to get motivated and getting rid of any limiting beliefs that you may have.
Module 3: Believe In Yourself & Have Ultimate Confidence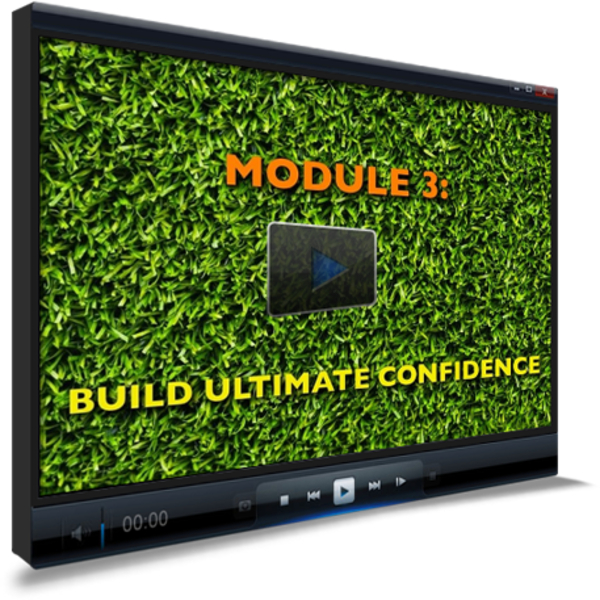 Finally, one of the most popular subjects is how to believe in yourself and build confidence. It is easy to say believe in yourself, but what does that actually mean? And how do you do that when you keep feeling like you are not good enough and keep worrying about mistakes? Learn the secrets that top elite players use to be at the top of their game. I also include guided visualisations by a top sport's psychologist which you can use to get 'into the zone' so that you are ready for a great performance.
Module 4: Overcome Fear, Pressure, Anxiety, Frustration and Get Focussed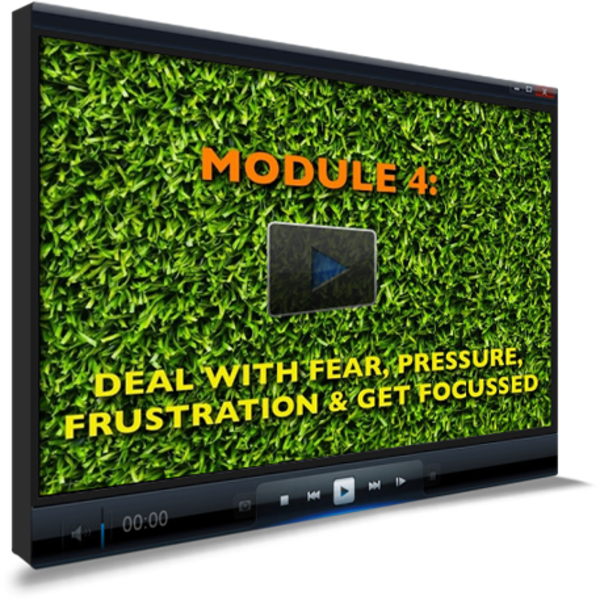 Anyone who plays sport will at some point feel a fear of failure, get nervous, feel pressure from parents, coaches or yourself, be frustrated or struggle to concentrate and focus. In this module we will provide you with many tools which will help you to overcome these difficult emotions so that you can focus on being successful. We also teach you about how to 'get into the zone' for consistent performance as well as how to overcome high expectations and setbacks. This is one of the most important modules for those who 'choke' at game time and this module will help you change that.
Section 2 - Fitness Training
Field Hockey has become a fast and powerful game, so if you want to keep up and make the most of your potential then you have to be working on and maximising your strength, power, speed, agility and fitness levels. Hockey is an explosive sport that requires maximum effort and people are producing more powerful shots, overheads and dragflicks so if you are not training this then you will be left behind others. You don't want to be one of those players who gets tired before the 70 minutes ends and your team lose because you made a mistake from fatigue.
Here is the breakdown of the Fitness Modules: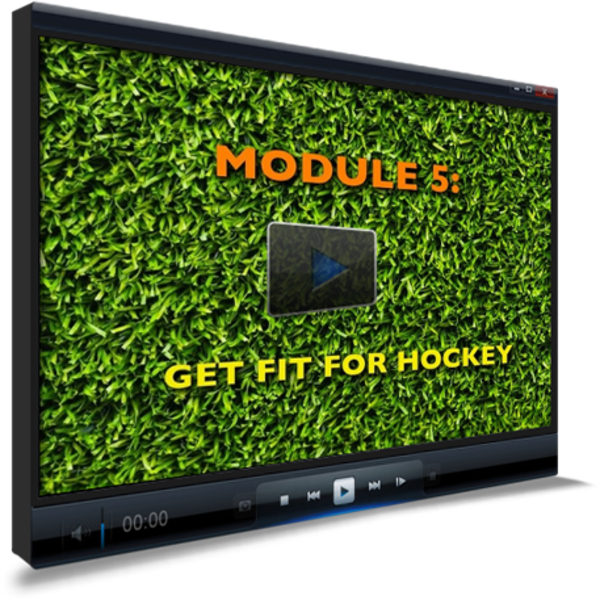 Hockey players have to be fit to cover a lot of ground and be able to last 70 minutes but what kind of fitness is best? Too many coaches advise players that they should be doing long distance running to get fitter but research has shown that this is not only unproductive but also increases the risk of injury. We will cover how to assess to progress, which is essential in beginning any kind of training program as well as an ideal warmup and cool down routine which will be best for optimum performance. The last part of the module will explain the various forms of conditioning to get fitter for hockey and provide an overview of a pre-season program.
Module 6: Build Strength & Power for Explosiveness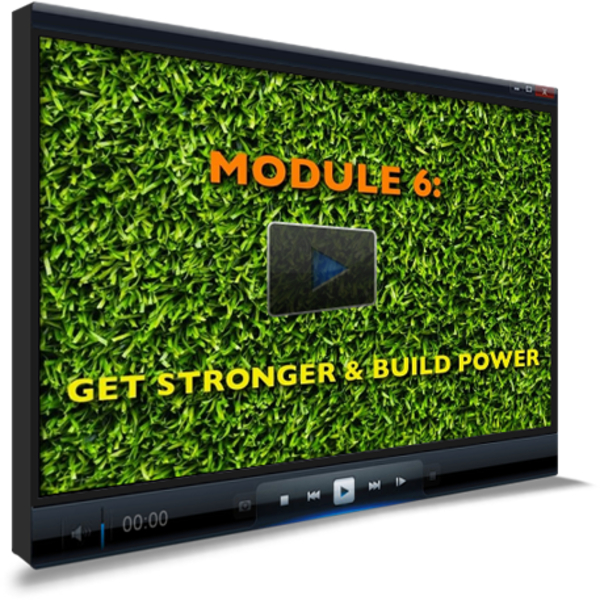 What makes one player get to the ball first or hit the ball harder than another? And why do some players get knocked off the ball easier than others? A lot of the time this is due to strength and power, which is an important part of any sport. Power is very important in hockey as it gives you the explosiveness you need, but often people forget that you can't have power without strength. This module includes a comprehensive done-for-you 16 week training program designed from pre-season through to advice and guidance for maintenance over the season. This module will help you to transfer your game so that you can get stronger and more explosive to get to the ball first.
Module 7: Develop Speed & Agility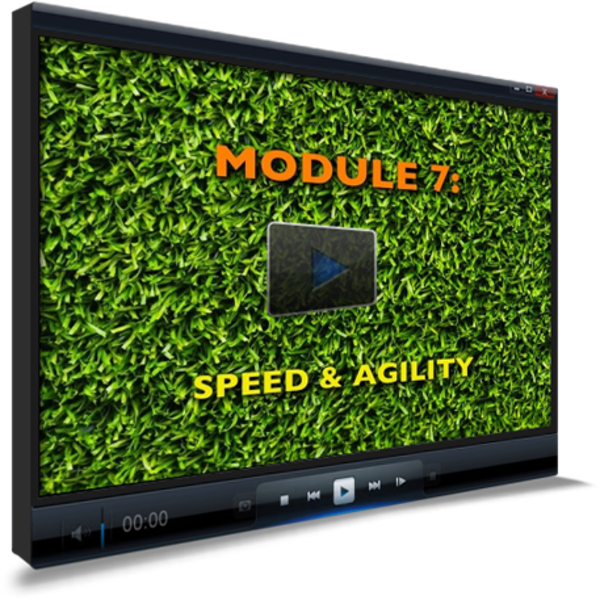 Who doesn't want to be faster and more agile? It is one of, if not THE most dangerous skill in sport because no one can tackle you if you have run past them or already gained a 5 yard advantage over your opponent. Hockey is about not only being fast but also being able to change direction efficiently. If you don't know how to slow down or decelerate then how can you change direction quickly? This module teaches you the essentials of not only being faster (acceleration) but also the technique of how to change direction and react to turnovers quicker.
Module 8: Recover Properly & Reduce Risk of Injury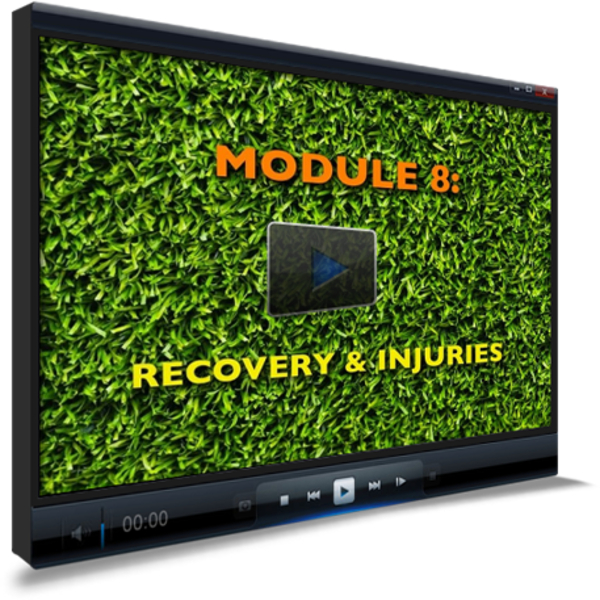 If you are serious about getting the most out of yourself then this module is as important as every other one. Most hockey players have at some point been injured, whether it is from a stick, ball or an overuse injury like a hamstring strain, knee pain, etc. We all know that hockey is a dangerous game but that is why a lot of us love it, because it's exciting. However you must take pre-cautionary measure to prevent injuries as much as you can. It is essential that you spend enough time ensuring that you recover properly and look after your body in the right ways or it may affect your next game and even later on in life. In this module we share with you some strategies in both preventing and treating injuries as well as releasing tight muscles. We have also recognised how mobility limitations can not only affect your performance but can also result in injuries due to bad biomechanics if ignored, so we provide you with a solution to pick up any weak area's than need attention.
Section 3- Improve Decision Making (Nutrition, Vision, Tactics, Hockey Skills)
Decisions are made in split seconds during games and they should happen in the unconscious / automatic part of the brain. But I bet you didn't know that you can improve your decision making with specific training. In this section we include training on Nutrition which is a basic function which not only affects energy levels but also decision making. What you are able to see also affects decision making so we also include training on improving your vision such as: peripheral awareness, spacial awareness, hand/eye co-ordination, depth perception, eye tracking, focus, etc. We also include training on understanding tactics which will help you understand your role in different situations. Finally we cover hockey skills which will help you to understand which skills to focus on and how to use the correct techniques.
Here is the breakdown of the Decision Making Modules:
Module 9: Nutrition for Optimum Performance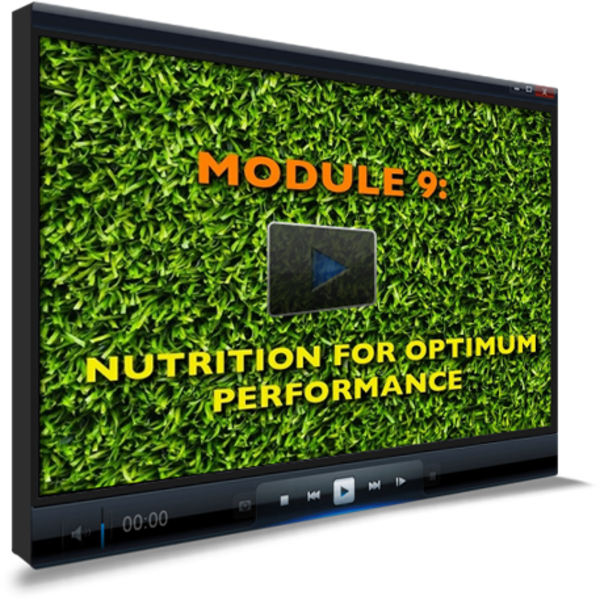 There is a lot of confusion when it comes to nutrition, what to eat when and how much, how often, etc. Nutrition has a massive influence in your performance and can also affect decision making. Everyone is different so we provide you with a formula for calculating how much you should be eating based on you. We also teach about essential macronutrients and the proportions you should aim for for carbohydrates, protein and fat, how to read food labels so you understand what you are putting into your body as well as advice on supplements and which ones are actually worth considering, as a lot of them are just money making businesses. If you have questions about what to eat before, during and after games then this module will definitely help you.
Module 10: Improve Your Vision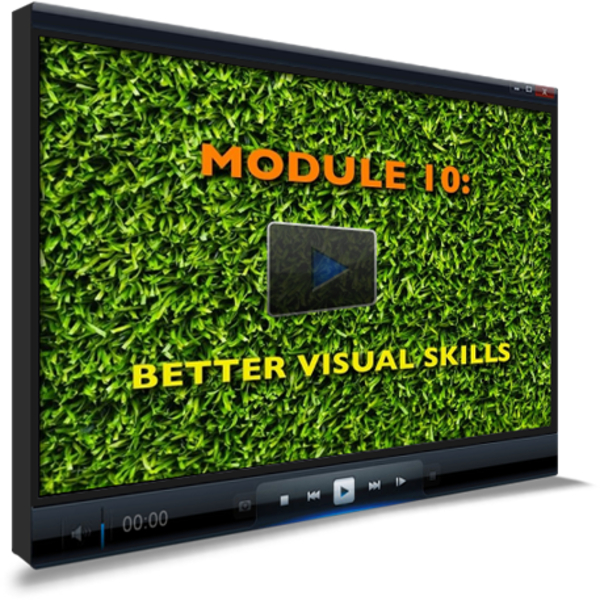 Training your eyes is as important as training your muscles. When it comes to sport, being able to see where your team mates are, where the defenders are, seeing passes, reading space and ultimately having enough information to make decisions is essential to performance. Part of this module has been put together by Vision Performance Director Dr Zoe Wimshurst who has worked with many top international sports men and women including the GB Men's Hockey Team. We also include a few exercises to improve your spacial and peripheral awareness, which is one of the most important aspects of vision in hockey.
Module 11: Understand Tactics & Positioning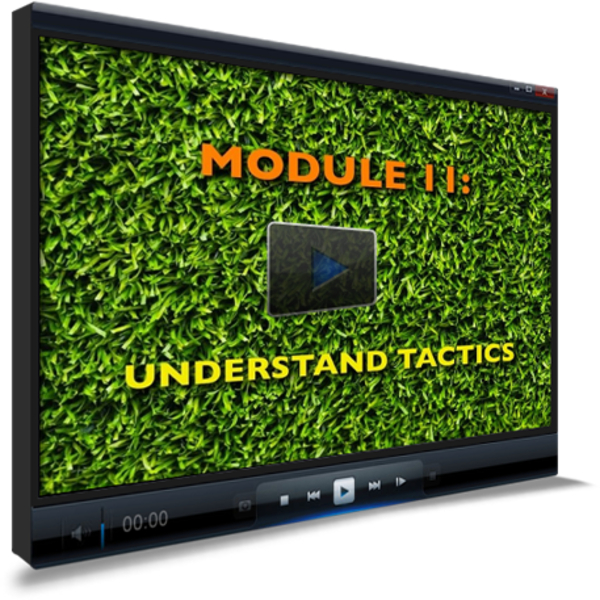 Throughout my own personal experience I have come to realise that most players do not understand tactics or perhaps some coaches are not great at explaining tactics to players. According to surveys I did even some international players are not sure why you play certain presses or the types of formations and various attacking objectives and defensive strategies. Our aim in this module is to provide you with an understanding of the essential and most important tactics used in hockey as well as explain how to have a presence on the field. This should leave you with confidence knowing your role in various presses, types of play and we also talk about the importance of creating 2 v 1 situations.
Module 12: Better Hockey Skills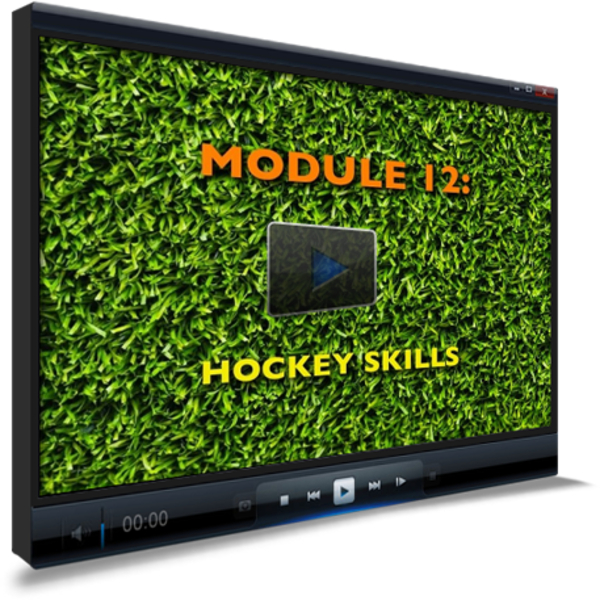 This part of the course is normally what people practice the most but we need to understand that everything else is as important. The attacking and defending skills shown in the video's in this module are demonstrated by England & Great Britain players, Ashleigh Ball and Sally Walton (Olympic Bronze medalists at the London 2012 Olympics). They showcase a number of attacking and defending skills which are often used in hockey which include a variety of elimination skills, passing, aerials, shooting, deflections, leading, getting in front of your player to receive the ball and first touch, as well as the correct techniques for various tackles. And for Goalkeepers, don't worry we also have you covered, the goalkeeper video's are demonstrated by South African Hockey Goalkeeper and Double Olympian Sanani Mangisa where she teaches you the essentials of goalkeeping to get to the next level.
That's a total value of $891
But wait, I would love to take away any reason you might not be able to secure your access into Hockey Performance Academy straight away.
So for those who secure access immediately, you can take your game to the next level with the Hockey Performance Academy Complete Package for just $199
Get Complete Package Now For Just
What If All I Want Is Just One Section Of Hockey Performance Academy?
I have divided the modules into major parts which I have tested many times and found there to be two major things you need to pay attention to when you are serious about taking your game to the next level.
Your Mental Toughness and Physical Fitness are the two major parts you need to work on to get your game to the next level
The Mental Toughness Module takes you through all the steps you need to get your hockey mental state to a whole new level, I bet this is something you never thought has so much power on your game. This module will prove you wrong because everything begins in your head.
Have you struggled with focusing and improving concentration to beat any distractions in the field?
Do you panic under pressure and give the ball away easily again because of your limiting belief that your opponent is better than you?
Do you wish you could stop making mistakes which hold you back from moving forward?
The Mental toughness training module helps you get over these obstacles and get you started on the journey to get your game to the next level
Here Is What You Will Learn Inside the Mental Toughness Training Modules
How to believe in yourself to achieve your dreams
My exact formula for unstoppable confidence
Discover how to overcome the fear of making mistakes
Become more focussed & improve concentration to beat any distractions
Learn how to control emotions like frustration so it doesn't affect your game
Discover how to deal with pressure, nerves and anxiety
How to best prepare for games to "get into the zone"
Become the consistent player that coaches rely upon
Overcome setbacks like being injured, getting dropped or not being selected
And so much more!
In case you are wondering if this will work for you, Here is some feedback from people that have already accessed the Hockey Performance Academy Mental Toughness Training
Okay do you have the mental requirement taken care of and you feel what you need is something different, something that has to do with your Fitness levels?
Yes I also went out of my way to make sure that hockey players who just want to get their fitness level up can also access only that training module without the need to get the Mental toughness module.
Hence I created another module that takes your fitness to the level you never thought possible.
With my years of experience training hockey players, I have been able to pinpoint an exact fitness program that helps hockey players get the fitness that they require to blow pass their team mate.
Imagine this for a second!
In just few weeks from now, you finally
Become faster, always win the 50/50 balls and react quicker to turnovers

Hit, slap, overhead or drag flick more powerfully to make more of an impact

Become stronger so that you don't get knocked off the ball
All because you finally laid your hands on Hockey Performance Academy's Fitness Training Modules by clicking the link below
Here Is What You Will Learn Inside the Fitness Training Modules
Get fitter specifically for hockey without going for long runs & see how your performance soars
Develop your speed and become the fastest player on the pitch
Build strength & core stability so that you are never knocked off the ball
Be more explosive so you are always first to the ball
Develop more power in your shots, slaps, overheads and dragflicks
Improve agility and change of direction techniques to beat players & react quicker
How to look after your body and reduce your risk of injury
Recovery strategies for enhancing performance
With over 5 years of video training demonstrating exactly what you need to do to reach peak fitness in your hockey, you can now train like an elite hockey player, there are even progressions according to your level and experience.
In case you are wondering if this will work for you, here is some feedback from people that have already accessed the Hockey Performance Academy Fitness Training Modules
Why You Need To Take Action Immediately And Get Access To Hockey Performance Academy Fast
I can only take on a limited amount of players at a time as I need to ensure that the server can handle that amount of students at one time  plus I need to be able to support those with any issues. 
Hence I will only be accepting just 50 players into the academy at the moment, for those who really want to reach the next level. Once I have 50 people in the academy, I will be shutting the door and I am not sure exactly when I will open it again.
Then the next batch will have to pay the original price.
But you can take action now and secure a spot in Hockey Performance Academy ...
Complete Package Now Only
Oh Before I Forget! Here Is My 30 Days Money Back Guarantee
Because I am so sure that the training inside Hockey Performance Academy will not only take your game to the level, but will also make you a better person full of confidence, I am letting you have full access to Hockey Performance Academy for a whole 30 days, use the training modules and see how improved your games are.
If within this 30 days you feel like you don't want to become a better player anymore, or you just plainly gets tired of playing hockey any longer, simply send me a mail and I will refund everything you paid to gain access to Hockey Performance Academy.
In case You Are Still Wondering If Hockey Performance Academy is for You?
Here's What Other Players Have Said
Picture This For a Minute
In 12 weeks from now; You finally take your game to the next level, finally become someone your friends and family are proud of, you finally become the toast of every coach, and exude confidence like never before because you secure your access to Hockey Performance Academy Training Course.
The Big Question now is; will you be part of the 50 people that I will grant access to Hockey Performance Academy at the discounted price of $199?
To Your Taking Your Game To The Next Level
Lauren