This blog post is all about how to score goals in field hockey and the different types of goals you can score. With the variety of goals being scored in hockey these days, it is important to stay up to date with the different goal scoring skills that can be used.
Here is a video of some of the goal scoring skills mentioned below:
10 ways to score goals in hockey: 
#1: Hit
Probably one of the most practiced goal scoring skills, it is important that you are able to hit accurately on target if you want to score goals.
#2: Reverse hit / Tomahawk
We have seen in increase in the amount of reverse hit or tomahawk goals in the modern game. A skill certainly worth developing if you want to score from a range of different angles in and around the D.
#3: Slap over keeper
This finish is often used when a keeper goes to ground too early and can be used with a little one touch dink over the goalie, into the netting. It looks great too!
#4: Far post
This one is all about positioning, being disciplined, having patience, staying low and being ready for the ball by watching it. Keep your eyes on the ball instead of turning away in fear of getting hit by the ball. If you actually watch the ball, you are less likely to get injured!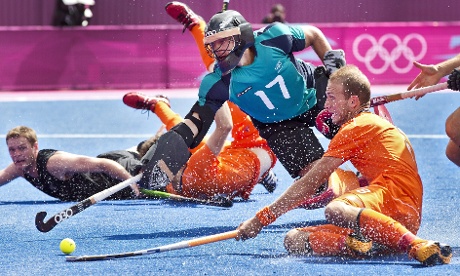 #5: Deflection
Sometimes players don't know much about this one, it kind of just happens, but the biggest challenge with this type of goal is timing and getting in front of your player at the right moment. It helps to have a good understanding of when and where your player is going to deliver the pass so that you can anticipate the next move.
Related post: 5 Tips For Scoring More Goals In Hockey
#6: Squeeze shot / off right foot
Most people hit the ball off their left foot after taking a massive wind up, which gives the keeper time to setup to make the save. A very useful but challenging skill to possess and one that is under-utilised in my opinion. It is great to use when you receive the ball with your back to goal and it difficult to defend against as it isn't easy for the goalkeeper to read where it is going to go. Likewise, shooting off the right foot often comes unexpected.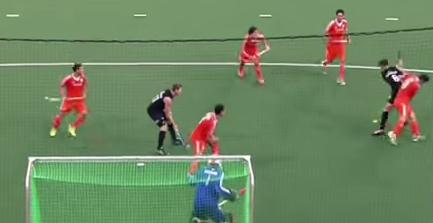 #7: 2 v 1
One of the easiest ways to score is to outnumber or overload the opposition, as long as your passes are precise and are not intercepted. Work with a team mate to set up the goalkeeper up for a 2 v 1, waiting for them to commit before passing.
#8: 1 v 1
Other than shootouts, there will be times when strikers find themselves in behind the defenders in heaps of space with a lot of time on the ball. The key here is to get the keeper moving and take advantage of the fact that you aren't wearing loads of equipment. With some deception get them moving then either slip it past them, between their legs on the move or over them once they go to ground.
#9: Rebound
When you are in the circle, get your stick low to the ground and be ready for any rebounds. A lot of goals are scored from the second phase (i.e. directly after a goalie has made a save), so be ready and try to anticipate where the ball is going to go next.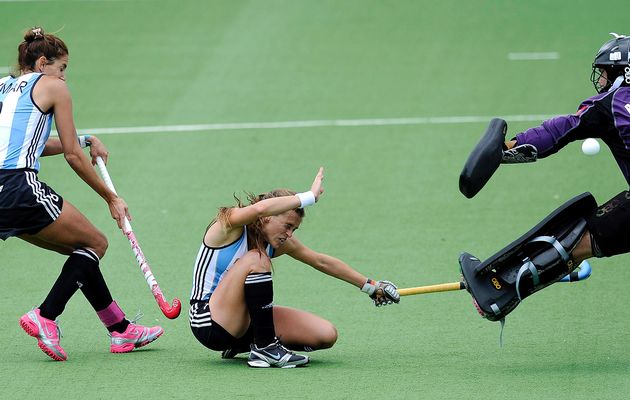 #10: Upright Reverse
How great is this skill! A challenging skill to master but with practice it can become a very useful skill because it is very difficult forthe goalkeeper to read it or predict where it is going to go. Even if it isn't as hard as your front stick shot it can be a tricky shot.
Bonus #11: Dragflick
A great looking skill which is often used at short corners and can take a long time to master. A good skill to be able to do but requires a lot of practice, patience and dedication. Due to the increased popularity of this skill, it is not as much as a specialist skill as it used to be, although it is always useful if you have a high scoring ratio.
Related post: 5 Tips For Scoring Goals In Hockey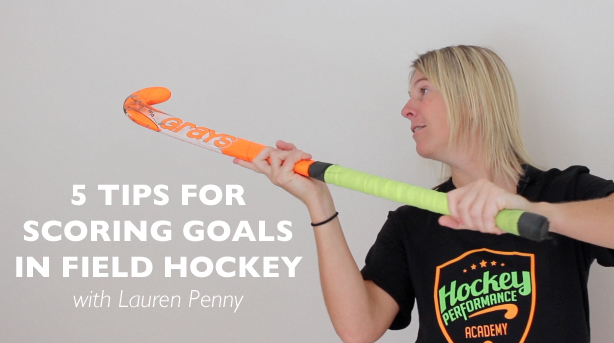 Enjoy this post?
Signup to receive more tips in our FREE Video Series
Get access to the free training video's by entering your name and email below:

We value your privacy and would never spam you